Stats for My Projects This Month
$181 revenue from ads and affiliates
6,498 unique visitors (+51% from last month)
Fantasy Congress (maintenance only):
On the personal side of things, I had a very exciting month. Me and my partner bought our first home and moved in. I also picked up some programmatic SEO client work in March. But as a result, I didn't get to spend much time on my projects. Unfortunately my main project (PageFactory) is still on a downward trajectory. Yet, my SEO experiment continues to take off.  

Full Recap
Can I turn PageFactory around?
This is the third month in a row that PageFactory has had net negative growth. MRR also dipped below $1k for the first time since November.
I keep wondering what's different now compared to the growth I saw in the fall. Then I remember I launched my free programmatic SEO course in November. So it seems since hype for the course has died down, interest in PageFactory has also slowly waned.
But more importantly, I can't hold on to the customers I do get for very long.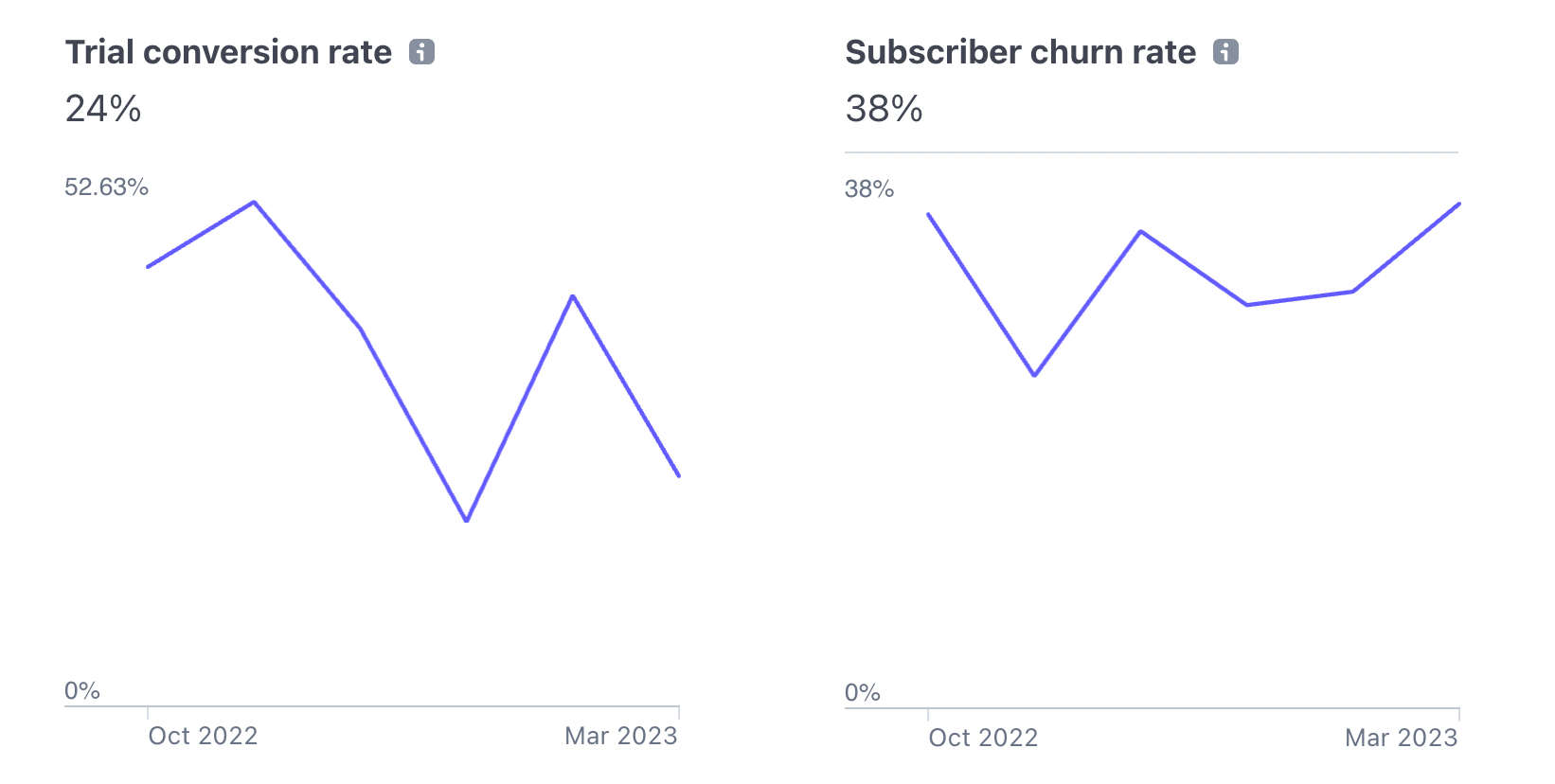 So far I've assumed churn was due to a lack of features. After careful reflection though (and reading through old emails), its apparent user churn isn't driven by just one thing.  
Most notably, a lot of people don't need a monthly subscription for a service like this. They sign up, generate their pages, and then they're done.
Switching to a pricing structure that allows people to pay based on usage would likely be the "correct" way to price a service like this. However, I dislike the idea of encouraging one-time transactions over a monthly subscription. It means income from PageFactory would be less predictable, and outreach efforts (which I already struggle keeping up with) would be 10x more important.
Recurring revenue is what makes SaaS such a powerful business model. And I'm beginning to wonder, if PageFactory can't sustain itself on subscriptions is it worth all this work?
I'm building a SaaS application along side direct integrations with many different (and quirky) third party services, and also handling all the marketing efforts, customer support, and everything else that comes along with running a business like this. I actually tried contracting some of my tasks out in March, but none of it saved me any time in the end.
If I don't have recurring revenue, how could I turn a profit without completely burning out? Maybe PageFactory isn't shaping up to be a good fit for a solo-preneur after all.
April Plans
I have a couple new customer acquisition strategies already in the works for April, so it will be interesting to see if either of these have an effect on growth or churn. Mostly though, I'm itching to take a break from PageFactory to build more sites around programmatic SEO.
Since my initial programmatic experiment, I planned on building a small "army" of these sites and monetizing them with ads. However, I've devoted all my time over the past 12 months to PageFactory in lieu of building sites. And it's a bit disheartening to realize that, had I spent all this time working on more programmatic sites, I could be making a lot more money by now. 😅
I'm also going to my first MicroConf in April. Hoping I'll come away from that experience with a lot more knowledge on what to do next with PageFactory. So, it kind of feels like the best time to let my foot off the gas and coast.