Stats for my projects this month
3,642 unique visitors (-3% from last month)
$6.74 in commissions from Amazon Affiliates
$1,449.50 revenue
$392.17 MRR
20 new subscribers
$701 revenue
$828.88 MRR
2 new subscribers

Thanks to the successful launch of PageFactory, I had my highest grossing month ever as an indie maker.

Full Recap
Successful Launch for PageFactory
My biggest priority for July was launching PageFactory - a tool that makes programmatic SEO easier to implement.
The days leading up to the launch were particularly harrowing. Between food poisoning, my neighbors house catching on fire, and things not working like they should (damn you Wordpress!), I ended up having to delay the launch by a couple of days. But considering the results, I don't think this affected the outcome.
I had 273 emails on my waitlist when I launched in mid July. In it's first week, PageFactory made $1,235 in cash from annual signups and had 20-ish people trying out the product on a free trial. The free trials started to convert at the end of the month, which resulted in $1,449.50 total revenue for PageFactory in July.
This launch was by far my best to date, and I did a little write up on indie hackers about why I thought this time was different. To give you a quick TL;DR, here are the things that I think made the biggest difference:
I over communicated with my audience leading up to the launch.
Required credit card information in order to start the free trial.
Offered an annual plan.
In my last retrospective, I stated my goal was to get 10 paying sign ups by the end of the month. I beat this goal twice in July by getting a total of 20 paying subscribers (not including users still on a trial).
Of course, I've had some churn. So far I think about 50% of my free trials are converting. The two biggest factors for churn seem to be a lack of specific features, and not having enough time to try the product before the free trial is up.
Choosing to leave because the application doesn't have more advanced features makes sense. It's pretty minimal right now. Luckily customer research has given me a good idea of what people want. The problem is I'm a one woman team and can't do everything at once!
But when people share they didn't have time to try the product, that makes me nervous. My guess is that the problem PageFactory solves isn't very important to them. Although, it takes a little bit of investment in order to get started with programmatic SEO, so perhaps I'm overthinking it.
Should I consider this idea validated? I think "yes". Not only have people paid for the product, but they're really using it as well.
Validation isn't product-market fit though, and this is where I got hung up with my last project. Can I reach the right audience and iterate fast enough to make this product profitable? I'm nervous about getting stuck again on the long, slow SaaS ramp of death...
Things may be turning around for my SEO experiment
There wasn't much extra time in July to invest in my initial programmatic SEO experiment. Unique visitors were roughly the same as they were in June. But I continued to see more pages get indexed, which is a really great sign.
At the beginning of July, I saw a big jump in impressions. From asking around, it looks like this could be the result of pages moving up in the SERP, or the pages I finally got indexed are beginning to rank.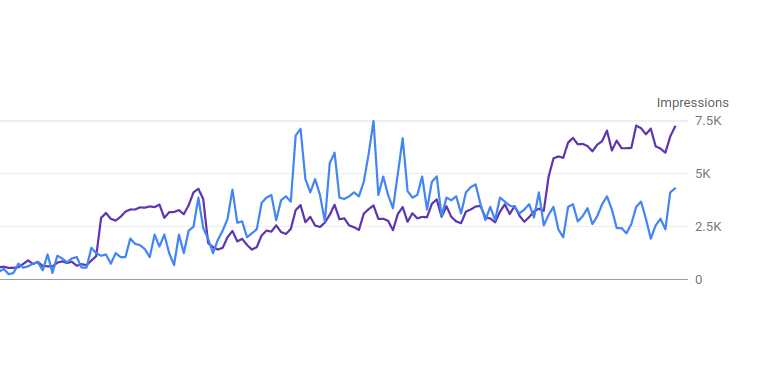 The last time I had a big spike in impressions, my traffic took off. So, fingers crossed that happens again.
In July I also added more blog content to pad out the site, was officially approved for the Amazon affiliate program, and made $6.74 off of commissions. The biggest thing I want to do now is swap out my current affiliate links for higher priced items, and get approved for Adsense. At some point, I actually need to do a write up about the results of this experiment. But, who knows when I'll have time.
August Plans
Looking back, I'm very happy with everything I did leading up to the launch of PageFactory. I think I did a good job shipping small things, iterating, collecting user feedback, and validating the idea. But I'm struggling to find my footing post launch.
PageFactory needs work, but I'm hyper vigilant about avoiding the mistakes I made with Fantasy Congress. It's gotten to the point where spending time on anything besides promotion and marketing feels scary!
Much of this is fueled by the fear that the channels I used to acquire users for my beta and waitlist don't seem to be working anymore. Almost all of my signups have come from the waitlist. I thought I had validated a couple of marketing channels, and therefore would continue to get a slow, steady trickle of sign ups. I guess validated channels for a free product versus paying ones are different. 😅
How do I find balance between reaching out to my audience and continuing to develop the product?
I've seen others do one week of marketing and then switch to one week of coding. I tried this the past couple of weeks and it's been a mess. Too much context switching for me. I can never get into a state of "deep work."
For August, I think I'm going to try switching off every two weeks. Hopefully, this gives me enough time to switch gears and settle in.

August will surely be a big period of growth for me personally. I'm pushing myself to do a lot of things that make me very uncomfortable. But hopefully I'll come out on the other side better and stronger. 💪🏻