Growth for Fantasy Congress stalled in April and MRR dropped by roughly $50 from the previous month. It's not terribly surprising considering I didn't follow through on any of my plans for promotion. But with the school year coming to a close, I'm worried about my ability to bounce back.
April Synopsis
$518 total revenue (-37% from last month)
3 new customers
4 churns
$847.36 MRR (-5% from last month)
Total revenue dipped quite a bit this month. Usually I get a couple annual plan sign ups (either $149 for educators or $99 for recreational players), but this month I didn't get any. Annual plans are nice, but they're unpredictable. April's total revenue is a more accurate representation of what I typically expect month to month.
At the beginning of April, I felt a little burnt-out on Fantasy Congress and opted to pick up some contract work to give myself a break. Around the time I felt ready to jump back into things, another fun issue popped up.
I won't go into detail on what happened, but I wanted to express my gratitude to everyone who reached out and/or offered assistance. I found a great lawyer and we're getting it fixed. Sincerely, I'm so grateful to be surrounded by such a caring and supportive community. Ya'll are awesome. ❤️
April Goals
The last time I connected with my email list was in January, so I wanted to update them on what I've been up to. Unfortunately, from a user's perspective, I haven't done anything particularly interesting. Mostly, I've worked on back-end changes and marketing efforts.
I wanted the update to be a little more exciting. So I decided to act on an idea I've had for a while: sending out stickers!
People really seemed to love this. I let them tell me how many stickers they wanted, keeping in mind that supplies were limited. For those that asked for more than I could give (mainly teachers with big classes), I threw in some extra goodies.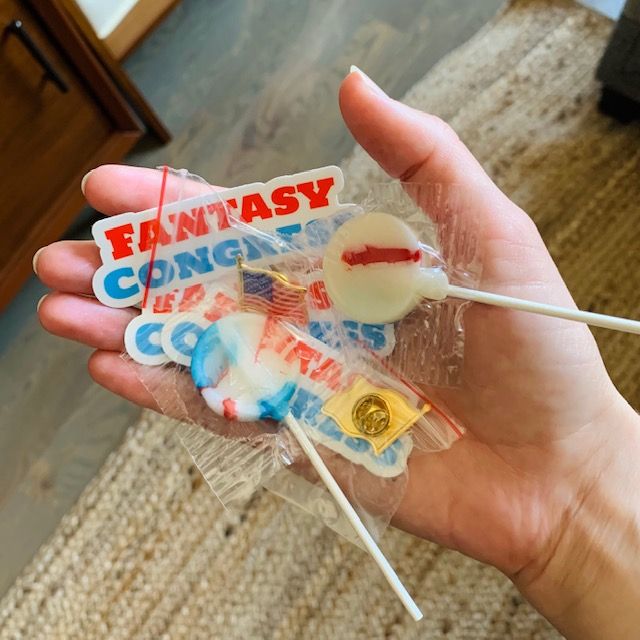 The stickers were a bit expensive. Including postage and the extra goodies, it cost about $7 per customer to do this.
I spent more than I wanted to, and I doubt sending out stickers will have any impact on revenue. But hey, it was fun. And people loved it. It's got me wondering, should I explore Fantasy Congress merch? 🤔
This month, I also took time to segment my email list. I have around 1,600 emails from people who have played or wanted updates. For the past three years, they've all sat in the same list, getting all the same emails.
Now, they're divided by their status as a customer. This should allow me to send more targeted emails, like helping new players get set up faster or re-engaging churned customers.
May Goals
Setting goals feels kind of pointless right now. There's so much I said I was going to do, but haven't got to yet. Lately when I sit down to plan out goals, I just want to say "copy paste from last month."
So, my "goal" for May is to chip away at things from my past retrospectives that I haven't tackled yet. As well as continue creating promotional content for Reddit or Twitter. I still think this is my best bet for reaching recreational players, which is the only way Fantasy Congress could bounce back in the immediate future.
But April's unfortunate experience with protecting my intellectual property also has me thinking about a new product idea...
Copycats are a huge problem across the entrepreneurial and creator space. It's hard to describe how much it hurts to see someone benefit from your hard work and struggle. For me, it felt incredibly violating.
So lately I've been thinking a lot about this problem, the pain points around it, and if there's a product I could build to help.
I have a few ideas, but my interest at this stage is purely exploratory. I plan to talk to other makers that have dealt with copycats and see if they have similar pain points. We'll see what happens next if I can validate there's a problem there worth solving.
That said, if you're a creator who's had people copy your branding or content, I'd love to chat!